The Vineyard
On the hilltop above the Dordogne river, its chalky clay soil, groundwaters and direct sun exposure facing the south give Château de Lafont perfect conditions to make the finest wines.
Due to its complex history, the lands of the domain had been sold by our family in the past, and land plots have been progressively repurchased and requalified since the 1980s.
Those grape yards were totally replanted in 1997, using the land in an optimum way to house 70% of Merlot and 30% of Cabernet varieties.
The Château de Lafont wine is now produced from 10 consecutive hectares of Merlot and Cabernet Franc surrounding the domain on the plateau of Saint-Vivien.
Château de Lafont is located in the Dordogne valley, and more precisely in the Montravel wine region. It is the most western part of the Bergerac appellation, close to the vineyards of Bordeaux.
We are situated 20km east of Saint-Emilion and 40km west of Bergerac.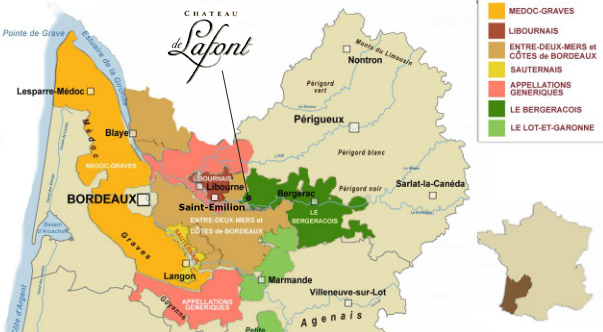 Even though our production is very limited (around 800 cases of Château de Lafont each year), we have our own small but modern winery.
We use thermoregulated stainless steel vats for vinification. We age all of our wines in French oak barrels for 12 months, and then in bottles for around 4 more years in our temperature-controlled ageing cellar.